Natural beauty: Shauna Gallagher with a selection of her skincare products
After battling teenage acne, Shauna Gallagher set up a company at the age of 19, selling natural beauty products. As she celebrates 10 years in business, she tells Stephanie Bell about the personal challenges that she overcame to achieve success
When she couldn't find a product to tackle her teenage acne, Fermanagh woman Shauna Gallagher created her own.
Using her parents' kitchen and researching online, she spent months developing various cleansers, toners and moisturisers, until she found a combination of ingredients that cleared up her skin.
Long before clean beauty was even heard of, and at the tender age of just 19, Shauna became a pioneer in the industry when she created a range of organic skincare products.
She was just 20 when the line went into production, and now, at the age of 30, she is celebrating 10 years in business with a UK-wide relaunch of her The Natural Beauty Pot brand.
For Shauna, it is all about taking skincare back to basics, offering simple formulas that use high-quality ingredients and produce gentle but effective products that really work and are suitable for everyone.
With her glowing complexion, she is walking proof of their effectiveness.
Shauna's acne overshadowed her teenage years and had such a big impact on her quality of life that it shaped her career.
However, it wasn't until she had a particularly bad breakout of cystic acne after a very stressful period in her life last year that memories of just how tough her teenage years were came back to haunt her.
"I had a really difficult year in my personal and business life," she begins. "My 34-year-old cousin died in February in an accident at work. It was sudden and very traumatic.
"In July I invested a lot of money in what turned out to be a very bad trade show, then in August my partner's father died.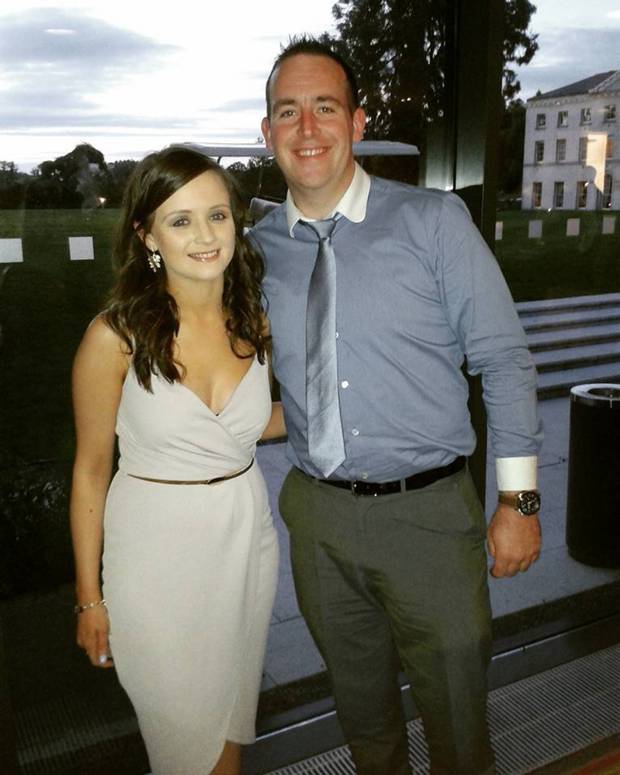 Shauna Gallagher with her partner Eoin Maguire
"It seemed like just as I was trying to get over one hurdle, another came along, and it led to a really bad breakout, which I hadn't had in years.
"I'm a fairly confident person but suddenly I felt really self-conscious and didn't want to go out. When I did go out, I found myself walking down the street with my head down, so that nobody could see my face.
"It brought me right back to what it was like when I was younger.
"When I was a teenager, I was always so self-conscious and used to layer up with make-up that was not the right colour for my face to try and hide (the acne), but it only made it worse.
"Two years ago I was at a wedding and bumped into a girl from school. She said to me, 'Your skin was so bad at school but it's amazing now. What do you use?'
"I was really taken aback because no one would have ever said to me how terrible my skin was. It made me realise that it wasn't just in my head – it really was that bad."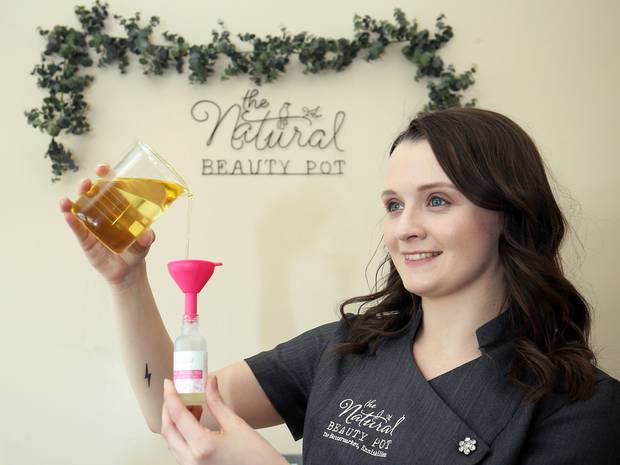 Winning formula: Shauna prepares her best-selling facial oil
Shauna discovered she had become sensitised to some of the ingredients in her products, which contributed to the unexpected outbreak of acne.
She tweaked the ingredients and developed a new product that cleared up her skin.
She has since added the product to her range and is currently developing new cleansers, all of which she makes by hand at her studio in The Buttermarket in Enniskillen.
As a teenager, Shauna chose to study to become a beauty therapist because of her experience with acne, and her venture into beauty products came about almost by accident, rather than design.
After developing her own products, her skin looked so good that customers often asked what she used.
When Shauna was 19, she decided to do a course in cosmetic regulations, so she could set up a studio and sell her products.
"You never see a beauty therapist with bad skin, which is why I decided to become one," she explains.
"I tried lots of products on my face, but they never worked. Then someone recommended this well-known product because it was supposed to be natural. I used it but had a really bad reaction.
"I started to Google the ingredients, then I realised it wasn't natural at all – and then I realised that I could make natural products.
"I love making things, and I made up lots of concoctions. Through trial and error, I developed a product that worked for me. I kept it simple and focused on quality ingredients.
"People started to comment on how good my skin was, which was something I had never experienced before. It was a great compliment to get.
"They were also asking what I used and if they could buy a pot, and that's when I decided that I could start a business."
The Natural Beauty Pot's line of aromatherapeutic cosmetics fuses tried-and-tested formulas with active essential oils, all carefully crafted by hand by Shauna, who believes skincare should be simple, gentle and effective.
She has worked hard to source ingredients from all over the world, all of them specially selected for their quality, aroma and texture.
Her products are packaged in eco-friendly glass bottles with wooden lids, and a refill service is available to limit packaging waste.
Shauna has a comprehensive collection featuring 14 skin and bodycare products for men and women, as well as a range of soy wax candles.
Every product is handmade in small batches to maintain quality and freshness, and the range is entirely free from water, and also free from preservatives.
It includes mood-boosting aromatherapy bath salts, four vegan-friendly facial oils, a multi-purpose beauty balm and a relaxing body oil.
The Natural Beauty Pot's ethos is all about the power of simplicity and providing products that are ethical and healthy for both people and the planet.
The rise in demand for natural skincare has grown hugely in the past few years, but in 2009 Shaun was very much ahead of the pack.
In fact, clean beauty was so unheard of at the time that people struggled to understand what she was trying to do.
"When I first told people about my products, I would have got funny looks, as if to say 'Is she serious?' Clean beauty wasn't even heard of back then," she explains.
"Now it is very popular because people have become savvier about what's in their skincare and how natural, clean ingredients can benefit their bodies. But natural ingredients can cause reactions too, so it is very important to test products.
"Safety has always been a big thing for me. I did a course in cosmetic regulations, which was very tedious, but I wanted to do everything by the book.
"It was really important to me to comply with all the regulations."
Initially, Shauna launched her collection under the title 'Nature's Inspiration', only to be hit with a setback in 2014 when she discovered the trade name already existed.
With her labels, website and uniform branded, she had to start all over again.
"It was the most devastating thing that has happened in my business," Shauna says.
"To have to change everything at that point after building up the brand and the name, it was a nightmare.
"In hindsight, though, it is the best move I ever made because it made me really look at what worked and what didn't work and what my customers were passionate about.
"Veganism had become very important to my customers, and I had used beeswax in some of my products, so I decided to eliminate all animal by-products from my range."
Remarkably, while developing new products and setting up and running a new beauty brand, Shauna also decided to study for a degree in management in her mid-20s.
When working on her dissertation, she was surprised – but also somewhat relieved – to discover she had dyslexia, which makes her achievements all the more remarkable. "I went to a local grammar school. I would have come home, started my homework and worked until dinner time.
"Then I went back to it after dinner until 11pm, but I still wouldn't have finished," she says.
"When I was doing my dissertation for my degree, my lecturer said he thought that I might be dyslexic.
"I was 25 when I was diagnosed.
"The assessor told me that I had developed coping mechanisms and had learnt how to work around it.
"He said I wasn't a severe case, but I read slower and write slower than 99% of people at my age and intelligence.
"It all made so much sense to me because I was always the last person to finish my work in school.
"I don't perceive myself as dyslexic because I have been diagnosed at such a late stage.
"It is not something I feel is important, although it does make life harder in some ways."
When she is not working on new products or fulfilling her latest batch of orders, Shauna spends time with her long-term partner, Eoin Maguire (33), who works as an engineer for Northern Ireland Electricity.
"Eoin is a fantastic trade show helper," she says.
"He has been to two trade shows in England with me and did the stand maintenance. I call him 'the muscle'.
"We've been together six years – life is good."
For details of Shauna's full collection, visit www.naturalbeautypot.co.uk
Source: Belfast Telegraph