An Introduction to Social Enterprise delivered in partnership with Social Enterprise NI.
Monday 23 March 2020 at 1:00pm – 3:00pm in Arc Healthy Living Centre, Irvinestown, BT94 1HQ
About this Event
This workshop, delivered by Social Enterprise NI and ARC Healthy Living Centre, will explore the business model of Social Enterprise and the differences between Charities and Social Enterprises and things to consider in forming a Social Enterprise.
ARC Healthy Living will provide an insight into their journey and showcase the facilities and activities that are currently available.
We also welcome Aimee Clint, Co-Founder of Books by Stellas CIC and Young Ambassador for Social Enterprise NI who will be telling her story of setting up and running her social enterprise.
Bus Transport will be made available to these events, from Enniskillen and/or Omagh depending on demand. Please contact the Economic Development Department to book your seat:
Tel: 0300 303 1777 Email: businesssupport@fermanaghomagh.com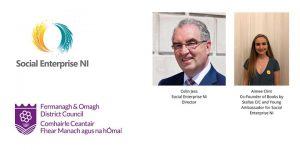 This event is delivered as part of Fermanagh and Omagh District Council's Enterprise Month which is taking place between 02 – 26 March.
To view the full programme
For more information visit www.fermanaghomagh.com.