If you are into food and fitness then you probably already know the rising star in healthy options cooking that is Tony Martin, the creator and driving force of healthy food's company "Tony's Kitchens".
Now you can join Tony on the culinary trip of a lifetime!
Due to popular demand Tony has added to his calendar, two new trips to the stunning, luxury villa, La Cascada on the island of Tenerife on the 21st – 28th November 2019 and 2nd – 9th February 2020.  This is an opportunity of a lifetime for avid fans of healthy food brand, "Tony's Kitchens". Combining the culinary skills and knowledge of healthy nutrition, this healthy foodie holiday will leave you more knowledgeable and confident about how to fuel your body and care for your health.
Isle of Fernando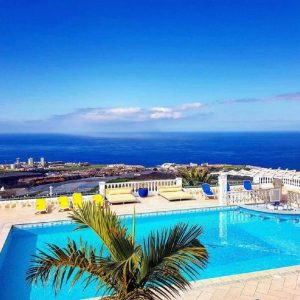 Held in the beautiful La Cascada Villa, the same villa used on the popular Paddy McGuinness show on ITV, "Take Me Out", this luxury, state of the art villa has the most tranquil and private of surroundings on the Islands. Enjoy 7 nights, full-board accommodation with a multitude of planned activities such as, daily Yoga, mini massages, meditation, aerobics, hiking and much more!
The Early Bird catches the flight!
The cost is £495 pp for 7 nights, rooms on a shared basis. Flights are not included but are working out very cheap for these dates. £100 deposit secures your place and you can pay the rest monthly if you wish. Why not Come along & bring a friend for a holiday with a difference.
---
Business Profile: Tony's Kitchens, No 32 Killyhevlin Business Centre  
How it all Began!
A weight loss success story himself, Tony lost 6 stone in his first 12 months at Slimming World.  However, Tony's love for food never waned and instead, this challenge opened up a new world of opportunities to Tony.  With an already burning passion for cooking and experimenting with food, he began creating and developing a range of healthy options which he tried and tested at his weekly Slimming World meets, much to the delight of the other treat-starved slimmer's. Before long he had people chomping at the bit to get a taste of his too good to be true, low-fat dishes.  Tony's creations transform boring, bland, healthy option meals into dishes that taste too naughty to eat and are loved and adored by slimmer's and sinful foodies alike!
Tony's Path to Success

Within six months of beginning his business he had an incredible 60,000 followers on Facebook with a further 2,000 joining every month.  This is in addition to his large Instagram following and the success of a steadily growing You-Tube following who love his how-to and useful tips videos, like the 'fried egg video' which reached over 27,000 views!  Furthermore, Tony's passion and ability doesn't just stop there, he is currently working on a healthy options recipe book, enthusiastically anticipated by fans who cannot wait to see if their own suggested recipes make the book.
Have a looked at the website www.pureluxurytenerife.com. You will fall in love with the place!
If you are inspired by the success story that is "Tony's Kitchens" why not contact Fermanagh Enterprise Ltd to enquire about starting a business or develop an existing business. Support Programmes, Advice and Mentoring, Business Units, Conference and Meeting facilities.
Enniskillen Business Centre, 21 Lackaghboy Road, Enniskillen BT74 4RL, Tel: 028 6632 3117